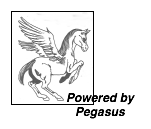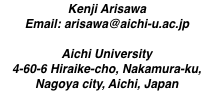 Users
目次
2014/07/03

Organizing User Group
Pegasus runs as user "web". You must register "web" as a system user.
Don't set password to "web" (to be something like "nobody" on Unix)

User "web" needs to enter your document space.

Don't allow system users into your document space.

You might want to allow CGIs to write some of your file.

/adm/users
This is my example.
-1:adm:adm:glenda,arisawa
0:none::
1:tor:tor:
2:glenda:glenda:
3:arisawa:arisawa:
4:alice:alice:
5:carol:carol:
10000:sys::staff
10001:map:map:
10002:doc::
10003:upas:upas:glenda
10004:font::
10005:bootes:bootes:
10006:web:glenda:
10007:staff::arisawa
10008:webu:glenda:web,arisawa,alice

NB: webu is a group for users who have home pages. You can chose other name if you hope.

Permissions
I have three web pages in my home directory:
http for real host (ar.aichi-u.ac.jp)

www for IP based virtual host (plan9.aichi-u.ac.jp)

web for a personal page that is accessed by http://ar.aichi-u.ac.jp/~arisawa

term% pwd
/usr/arisawa
term% ls -l
...
d-rwxr-x--- M 168 arisawa web             0 Feb 14  2008 http
d-rwxr-x--- M 168 arisawa web             0 Jul 27  2013 web
d-rwxr-x--- M 168 arisawa web             0 Jul 10  2012 www
...
term% ls -l www
d-rwxr-xr-x M 168 arisawa webu 0 Nov  7  2002 www/bin
d-rwxr-xr-x M 168 arisawa webu 0 Nov 14  2013 www/doc
d-rwxr-xr-x M 168 arisawa webu 0 Oct 28  2013 www/etc
term%

If you want to allow CGIs to create files in a directory, set the permission and (user,group) as follows:

	d-rwxrwxr-x, (arisawa, webu)